705 Gold Lake Drive, Ste 350 – Folsom, CA 95630 – ph# (916) 939-6800 – fax# (916) 939-6874
info@bodyconceptsinc.com
Dance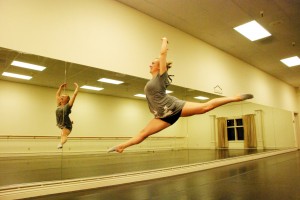 Dancers are able to do amazing things with their bodies with proper training and technique and inspire all of us with their performances.
There are two types of dancers. Those with natural flexibility who are challenged by lack of strength and those who are naturally strong/powerful but lack the flexibility others posses. Both types lead to specific types of overuse and/or traumatic injury that can prevent the dancer from achieving their goals.
At Body Concepts we offer both Pilates Training and Physical Therapy to enhance your body's natural ability. We can help balance natural ability and improve the areas that are a challenge.
Rob has worked with dancers of all ages and ability levels for over 15-years and has over 22-years experience as a Physical Therapist in orthopedic-sports medicine and is a Master Pilates Instructor. Several other fully certified Pilates instructors are available as well.
Biomechanical Dance Evaluation $120 1-hour
This evaluation will assess bone structure alignment, muscular strength and flexibility and address any ongoing pain or dysfunctional issues. You will have a clear picture of what your strengths and limitations are at the end of this session and a plan to accomplish your goals. You do not need a medical referral for this evaluation.
Pilates Training $20-75/hour depending on class or private session
Pilates Training offers dancers the ultimate combination of developing strength, control and flexibility at the same time. The focus on core strength and control of movement is perfect for developing the technique dancers need to get the most out of their dance class, rehearsals and performances. Prevent the likelihood of injury, enhance the quality of your movement and have fun at the same time.
Physical Therapy $100/hr cash, most medical insurances accepted
Dancers have common injury patterns that can be evaluated, treated and corrected with physical therapy. Feet and ankles, knees and hips, spine and shoulders are all pushed to their limits as a dancer… If you have a chronic injury or can not seem to break through a performance barrier we can help you.